With the UK tourism industry fully unlocked, it's finally time to go out and enjoy some vacationing. There is no better place to get away from it all than Cornwall. Often dubbed the Cornish Riviera thanks to its beaches and prime surfing opportunities, Cornwall has so much to offer for individuals, couples, or families looking to have some fun with their pets. It's just as well we've included three of the best dog friendly cottages in Cornwall for 2021 then, isn't it :). Let's have a look.
Having visited Treth House recently we've already published a full review. This six-person home is tucked away in the hills of Cornwall giving you some incredible views without even having to leave the bedroom.
But with so many incredible walks, beaches and sights literally on your doorstep you'll be hard-pressed not to head out and explore. Well-behaved dogs can be off-lead on many of the walks, keep an eye out for wildlife if your dog is prone to getting over-excited. View on airbnb
Elmfield barn is located on the west coast of Cornwall very close to Praa Sands. Able to accommodate two people and their loyal companion the barn has Cornwall on its doorstep and is perfectly situated to make the most of the local sights as well as pubs.
The barn was newly refurbished 3 years ago and comes fully kitted out with everything you need to make it your home away from home. Including some handy maps to you can plan your stay.
The convenience continues with private parking on site, and the views can be enjoyed for most of your waking hours as the upside down floor plan means the kitchen and sitting area are on the top floor, taking full advantage of Tregonning Hill views. View on airbnb.
Located within the grounds of our decommissioned railway station, The Signal Box is set on its own and well away from the main station house. At the end of a long driveway that runs over the site of the old railway tracks.
This unique stay also has a fully secure and dog friendly private garden with unique views of The Tamar Valley, a UNESCO World Heritage Site. Potentially one of the best views you'll ever lay your eyes on within Cornwall.
The view itself is definitely one of, if not the main selling point of this gorgeous property. Everything you need is on-site, from freezer space to outside beach chairs so you can leave the kitchen sink at home. More room for the dog that way! View on airbnb.
A newly converted barn that's perfect for couples looking to have a relaxing break in Cornwall. Wild and serene, it's the perfect spot for people who want to get away from it all.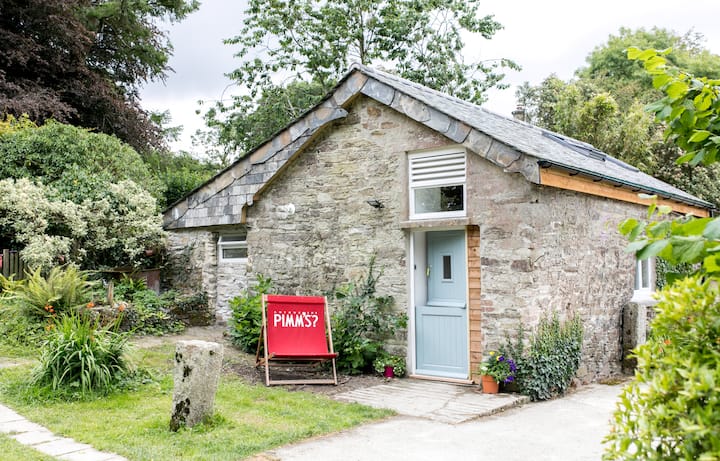 With a stunning bathroom and quirky balcony bedroom, this is the perfect place for you to bring your pet if you're looking to get away from it all. The property is situated up a very bumpy road, which will get you right in the mood for your new adventure! With a history of housing a few cows and pigs, this converted barn now offers sublime views over the Glynn valley and the Lanhydrock estate.
As an added extra (as if you needed any more!) the barn includes a great view of the train tracks, where you can spy on the local Steam Trains which chug along from time to time. View on airbnb
Experience the best of Cornwall in this Grade II Listed 19th Century Creekside cottage with panoramic creek views. This beautiful home is perfect for couples or families and their pups looking for a relaxing retreat or wanting a base to explore the North and South coasts.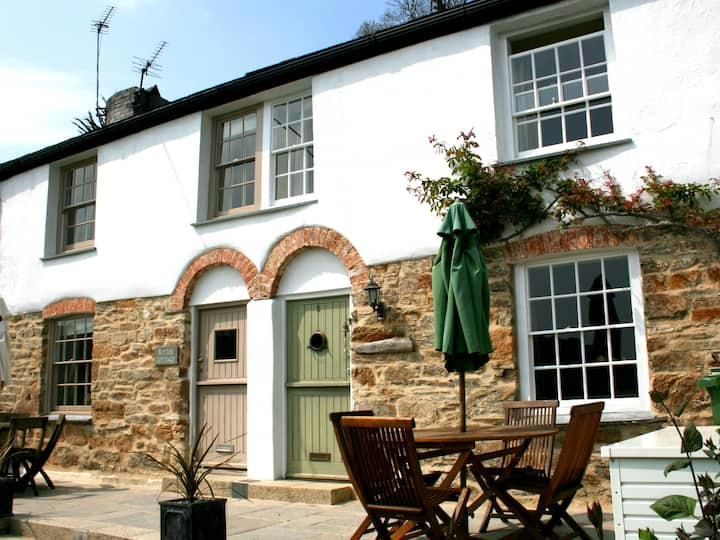 This cottage is one of two located in the village of Malpas, a private space with views of the tidal estuary with a well-known pub. Rest assured if you do need supplies, it's also just under 2 miles from Truro which will have shops and other key facilities should you need them.
A 1-bedroomed cottage that sleeps up to 2 people and their doggy, making it the perfect retreat for couples. it has been recently completely refurbished to a very high standard but in a traditional style, combining modern luxuries with period details and features. What a beauty it is. View on airbnb.
Hopefully, one of these stunning dog friendly cottages in Cornwall has tickled your fancy or wagged your best friend's tail. They really are some of the best places to stay in the UK. If you have any questions, drop them in the comments below.